Adam Hamilton
< Back to author list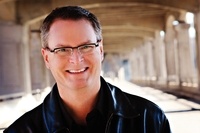 Rev. Adam Hamilton is the founding pastor of the United Methodist Church of the Resurrection in Leawood, Kansas. He grew up in the Kansas City area. He earned a B.A. degree in Pastoral Ministry from Oral Roberts University and a Master of Divinity Degree from Perkins School of Theology at Southern Methodist University.
The United Methodist Church of the Resurrection has grown from four people in 1990 to more than 16,000 adult members with an average weekly worship attendance of more than 8,600 in 2011. The church was listed as the most influential mainline church in America in a 2005 survey of American pastors.
Adam has been married 30 years to LaVon. They have two grown daughters.