Agatha Christie
< Back to author list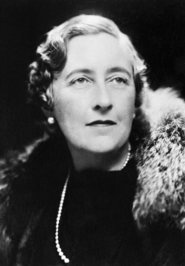 Agatha Christie also wrote romance novels under the pseudonym Mary Westmacott, and was occasionally published under the name Agatha Christie Mallowan.
Agatha Christie is the best-selling author of all time. She wrote 66 crime novels and story collections, fourteen plays, and six novels under a pseudonym in Romance. Her books have sold over a billion copies in the English language and a billion in translation. According to Index Translationum, she remains the most-translated individual author, having been translated into at least 103 languages. She is the creator of two of the most enduring figures in crime literature-Hercule Poirot and Miss Jane Marple-and author of
The Mousetrap
, the longest-running play in the history of modern theatre.
Agatha Mary Clarissa Miller was born in Torquay, Devon, England, U.K., as the youngest of three. The Millers had two other children: Margaret Frary Miller (1879–1950), called Madge, who was eleven years Agatha's senior, and Louis Montant Miller (1880–1929), called Monty, ten years older than Agatha.
Before marrying and starting a family in London, she had served in a Devon hospital during the First World War, tending to troops coming back from the trenches. During the First World War, she worked at a hospital as a nurse; later working at a hospital pharmacy, a job that influenced her work, as many of the murders in her books are carried out with poison. During the Second World War, she worked as a pharmacy assistant at University College Hospital, London, acquiring a good knowledge of poisons which feature in many of her novels.
Her first novel,
The Mysterious Affair at Styles
, came out in 1920. During her first marriage, Agatha published six novels, a collection of short stories, and a number of short stories in magazines.
In late 1926, Agatha's husband, Archie, revealed that he was in love with another woman, Nancy Neele, and wanted a divorce. On 8 December 1926 the couple quarreled, and Archie Christie left their house, Styles, in Sunningdale, Berkshire, to spend the weekend with his mistress at Godalming, Surrey. That same evening Agatha disappeared from her home, leaving behind a letter for her secretary saying that she was going to Yorkshire. Her disappearance caused an outcry from the public, many of whom were admirers of her novels. Despite a massive manhunt, she was not found for eleven days.
In 1930, Christie married archaeologist Max Mallowan (Sir Max from 1968) after joining him in an archaeological dig. Their marriage was especially happy in the early years and remained so until Christie's death in 1976.
Christie frequently used familiar settings for her stories. Christie's travels with Mallowan contributed background to several of her novels set in the Middle East. Other novels (such as
And Then There Were None
) were set in and around Torquay, where she was born. Christie's 1934 novel
Murder on the Orient Express
was written in the Hotel Pera Palace in Istanbul, Turkey, the southern terminus of the railway. The hotel maintains Christie's room as a memorial to the author. The Greenway Estate in Devon, acquired by the couple as a summer residence in 1938, is now in the care of the National Trust.
Christie often stayed at Abney Hall in Cheshire, which was owned by her brother-in-law, James Watts. She based at least two of her stories on the hall: the short story
The Adventure of the Christmas Pudding
, and the novel
After the Funeral
. Abney Hall became Agatha's greatest inspiration for country-house life, with all the servants and grandeur which have been woven into her plots.
To honour her many literary works, she was appointed Commander of the Order of the British Empire in the 1956 New Year Honours. The next year, she became the President of the Detection Club.
Wikipedia entry for Agatha Christie