Alastair McIntosh
< Back to author list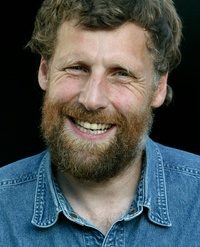 Alastair McIntosh is an Isle of Lewis-raised writer, broadcaster and campaigning academic best known for his work on land reform on Eigg, in helping to stop the Harris superquarry; also for developing human ecology as an applied academic discipline in Scotland. He holds a degree of BSc in geography, submajoring in psychology and moral philosophy from the University of Aberdeen (1977), an MBA, specialising in finance, from the University of Edinburgh (1981) and a PhD by Published Works on liberation theology and contemporary Scottish land reform from the Academy of Irish Cultural Heritages at the University of Ulster (2008).
His book, "Soil and Soul" (Aurum Press, 2001), has been described as "No Logo in a Fair Isle jumper" by Susan Flockhart of the Sunday Herald, "world-changing" by George Monbiot, "life-changing" by the Bishop of Liverpool, and "truly mental" by musician Thom Yorke of Radiohead. Other books include a poetry collection, "Love and Revolution", from Luath Pess (2006); "Hell and High Water: Climate Change, Hope and the Human Condition" – published by Birlinn in June 2008 and described by Michael Russell MSP, the Scottish Government's Minister for the Environment, as "a profoundly important book"; and "Rekindling Community: Connecting People, Environment and Spirituality", due in October 2008 as a Schumacher Briefing (Green Books) with endorsement and research funding from WWF International.
He has also featured in the Wall Street Journal for knocking a psychological hole in Gallagher's Silk Cut cigarette advertising campaign; served as a consultant to Groupe Credit Mutuel, France's largest mutual bank, on the meaning of mutuality; sits (unpaid) on the Sustainability Stakeholders Panel of Lafarge, the biggest construction materials company in the world, that he helped to see off from the Harris superquarry; he has lectured on the theology of land reform at the Economics Department of the Russian Academy of Sciences; served as a theological consultant on nonviolence to the World Council of Churches; and every year, for the past decade, has addressed 400 senior military officers on the Advanced Command & Staff Course at the Joint Services Command & Staff College. He is a Fellow of Scotland's Centre for Human Ecology, a Visiting Fellow of the Academy of Irish Cultural Heritages at the University of Ulster, and in 2006 was appointed to an honorary position in Strathclyde University as Scotland's first Visiting Professor of Human Ecology. He is a regular presenter for Thought for the Day on BBC Radio Scotland and has some 200 items of published work to his name, many of which are available at
www.AlastairMcIntosh.com
.
Alastair's work seeks to connect people, place and spirituality into a more full understanding of community. He sees global crises as crises of the human condition requiring evolution that is more cultural than political, economic or technical. Spirituality for him is "that which gives life" and specifically, "life as love made visible." As a Quaker, he approaches this from both Christian and interfaith perspectives. Walter Wink has described him as, "in my opinion, and apparently in many others, one of the best theologians in Scotland today." Others consider his views heretical, and in 1996 his teaching post at Edinburgh University was controversially axed in connection with his work challenging corporate and landed power. He lives with his wife, Vérène Nicolas, in the Greater Govan area of Glasgow, where he is a founding director of the GalGael Trust working with local people in hard-pressed circumstances. He and Vérène often undertake events jointly.
No results
We couldn't find a match for these filters.
Please try another choose.