Alexander Cruden
< Back to author list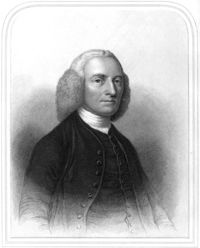 Alexander Cruden (31 May 1699 – 1 November 1770) was the Scottish author of an early concordance to the Bible, a proofreader and publisher, and self-styled Corrector of the nation's morals.
Alexander Cruden was born in Aberdeen in Scotland (baptised on 8 June 1699, St. Nicholas Kirk, Aberdeen, according to recent research) and was educated at Aberdeen Grammar School and Marischal College, University of Aberdeen, and became an excellent Latin, Greek and Biblical scholar.
He took the degree of master of arts, but soon after began to show signs of insanity owing to a disappointment in love. After a term of confinement he recovered and removed to London. In 1722 he had an engagement as private tutor to the son of a country squire living at Eton Hall, Southgate, and also held a similar post at Ware.
In 1729 he was employed by the 10th Earl of Derby as a reader and secretary, but was discharged on the 7th of July for his ignorance of French pronunciation. He then lodged in a house in Soho frequented exclusively by Frenchmen, and took lessons in the language in the hope of getting back his post with the earl, but when he went to Knowsley Hall in Lancashire, the earl would not see him.
After his University education, Cruden was set to enter the church until his mental health was called into question and he was institutionalised. This was the first of several stays in mental hospitals throughout his life.
Cruden's frequent institutionalisation is a matter of academic debate. Traditionally, Cruden's apparent madness has been interpreted as the other side of his focused brilliance. However Julia Keay argued that he was not mad, but he was initially put away to silence his criticisms of incestuous marriages among the nobility, and later by women who rejected his unwanted affections;he paid unwelcome addresses to a widow which resulted in an enforced stay in Matthew Wright's Private Madhouse in Bethnal Green, London.
In September 1753, through being involved in a street brawl, he was confined in an asylum in Chelsea for seventeen days at the insistence of his sister (Mrs. Isobella Wild of Middle Green Langley). He brought an unsuccessful action against his friends, and seriously proposed that they should go into confinement as an atonement.
In April 1755 he printed a letter to The Speaker and other Members of the House of Commons, and about the same time an Address to the King and Parliament.. Also in 1755 he paid unwelcome addresses to the daughter of Sir Thomas Abney, of Newington (1640–1722).
Cruden was never married.
Cruden died suddenly while praying in his lodgings in Camden Passage, Islington, on 1 November 1770. He was buried in the ground of a Protestant dissenting congregation in Dead Man's Place, Southwark. He bequeathed a portion of his savings for a bursary at Aberdeen, which preserves his name on the list of benefactors of the university.