Alistair J. Walker
< Back to author list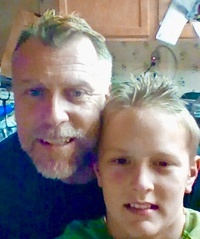 Alistair J Walker was born in Hythe,Hampshire,England in the United Kingdom. The youngest of five children.His father was a British Army officer and his mother was a homemaker having finished school with a full college scholarship at age thirteen.During the military years the family was stationed all around Britain and the continent before his father retired from the service. After moving to American his father abandoned the family in the mid nineteen eighties and his mother was forced to work multiple jobs to pay the bills and keep the remaining two children in school.
After high school Alistiar began a career in construction eventually becoming a building contractor.He owns a residence in Milton Florida and Winston-Salem North Carolina. Alistair owns and operates Rip Enterprises LLC, Rip Roaring Rentals, Bloggsy bounce, and Alistair J. Walker publications and serves on many boards including the Santa Rosa County Historical Society, The Gulf Coast Writers Guild and administrates a social media writers group.
Alistair has four Beautiful Children that he raises alone since the loss of his wife.The four children were each born in one of the four countries of the United Kingdom: Elizabeth in Scotland,Bloggsy in England, Rip in Wales,And Miles in Northern Ireland. all four children are dual citizens of the U.K. and the U.S.
Alistair's children also write, with Bloggsy collaborating with his father on "The Road Forbidden" , Rip helping With "The Foreboding Fable of Sirens Bog" , and Elizabeth working on her own Book.
Alistair is the Author of the books: The Kenosis Epidemic, The road Forebidden, Drowsy Dreamers,The Forebodding Fable of Sirens Bog, The nightmare At Elf Street and many more.
No results
We couldn't find a match for these filters.
Please try another choose.