Alona Frankel
< Back to author list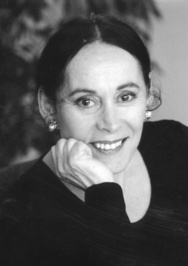 Alona Frankel was born on June 27, 1937 in Cracow, Poland. As a Jew under the German occupation of World War II, she was forced along with her parents and all other Jews into the Lvov Ghetto. After the ghetto was liquidated by the Nazis, Alona was sent off to hide in a remote, Catholic village, with forged documents. Pretending to be a Christian child, she worked and slept in a barn with her new friends the pigs.
Alona and her parents survived the World War and immigrated to Israel in 1949. She began illustrating books in her thirties and in the mid-70's wrote and illustrated the picturebook "Once Upon a Potty" [in Hebrew: "Sir Ha'Sirim"] which grew into an international bestseller, including in English, Spanish, Dutch, Chinese, Japanese, Hungarian and Italian languages. The Joshua (for boys) and Prudence (for girls) books remain the #1 all-time potty related classics in the United States, and around the world.
Alona has written and illustrated over 50 children's books, in addition to designing covers and illustrating dozens of books by other authors. Her books have been translated into many languages and her art has been featured at exhibitions worldwide. Frankel has won numerous prizes, including multiple Parent's Choice awards, and the Hans Christian Andersen List of the International Board on Books for Young People.
"The difference between adults and children is only life experience, their wealth of associations, and the child's dependence upon the grownup," explains Alona. "Other than that, I hold children's judgment and opinions in the highest regard, and have great respect for them."
In recent years, she has also begun writing books for adults and YA (Young Adults): the first, "Girl" [in Hebrew: "Yalda"] was awarded The Sapir Prize for literature and Yad Va'Shem's Buchman Prize. It will be published in English this September by Indiana University Press and has been favorably compared to the writings of Anne Frank, Primo Levi and Marcel Proust, no less!
Alona is a mother of two sons – Ari and Michael – and a grandmother of five. She lives and works in Tel-Aviv, Israel. For more information, please visit
www.alonafrankel.com
online.
Books By Alona Frankel
Displaying all 2 products