Amy Hayes
< Back to author list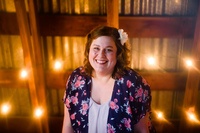 Amy and her husband, Doug, make their home in the Portland, Oregon area where they raised his five children from a previous marriage and are now thoroughly enjoying four grandchildren.
Having homeschooled her step-children, Amy continues to pursue her interest in education with Zera Hall, a small one-room girls school she teaches from her home. When not busy with grandbabies, writing and teaching, she enjoys photography, cooking and gardening. She has combined two of her favorite pastimes by creating a baby photography blog - Grammy Pics.
Her commitment to Jesus Christ has inspired her to serve numerous people in her church, especially as a wedding coordinator. Her book, "All Things Are Ready," is the fruit of these experiences. She continues to work with brides most summers and writes on weddings at:
www.weddingchristian.com
.