Anara Guard
< Back to author list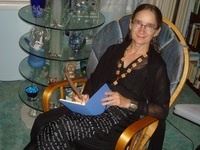 Anara Guard grew up in Chicago where her first job was tending the corner newsstand for a penny a minute while Carl the Newspaper Man ate his lunch at Steinway's drug store. Her debut novel LIKE A COMPLETE UNKNOWN will be published in March 2022. She studied writing at Urban Gateways Young Writers Workshop of Chicago with Kathleen Agena, Idyllwild School of Music and the Arts with Norman Corwin, St. Joseph's College with Stu Dybek, Bread Loaf Writers Conference with Robert Cohen and Alix Ohlin, and the Community of Writers. She graduated from Kenyon College and Simmons College Graduate School of Library and Information Science in Boston. She is the author of the novel, "Like a Complete Unknown" (2022), two collections of short stories, "Remedies for Hunger" (2014) and "The Sound of One Body" (2010), as well as a poetry collection, "Hand on My Heart" (2019). She lives in northern California with her husband and yard dragon.
No results
We couldn't find a match for these filters.
Please try another choose.