Andrew Root
< Back to author list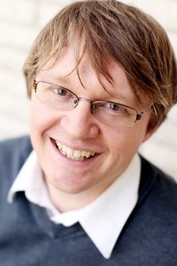 Andrew Root joined Luther Seminary in 2005 as assistant professor of youth and family ministry. Previously he was an adjunct professor at Wesley Theological Seminary, Washington D.C., and Princeton Theological Seminary, Princeton, N.J.
Root received his bachelor of arts degree from Bethel College, St. Paul, Minn., in 1997. He earned his master of divinity (2000) and his master of theology (2001) degrees from Fuller Theological Seminary, Pasadena, Calif. He completed his doctoral degree from Princeton Theological Seminary in 2005.
Root's ministry experience includes being a gang prevention counselor in Los Angeles, youth outreach directed in a congregation, staff member of Young Life, and a confirmation teacher. He has also been a research fellow for Princeton Theological Seminary's Faith Practices Project.
Root has published articles in the Journal of Youth and Theology, The International Journal of Practical Theology, and Word and World.
He is a member of the International Association for the Study of Youth Ministry and the International Bonhoeffer Society.