Angela Benson
< Back to author list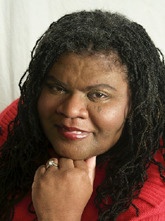 Though Angela Benson began writing fiction in Miss Milizo's fifth grade English class, her first book was not published until 1994, more than thirty years later! Since then, Angela has published twelve novels, two novellas, and a nonfiction writing book. Her books have appeared on national, regional and local bestseller lists, and she has won several writing awards, including Best Multicultural Romance from Romantic Times magazine, and Best Contemporary Ethnic Romance from Affaire de Coeur magazine. She was a finalist for the 2000 Romantic Times Lifetime Achievement Award in Multicultural Romance.
After publishing seven contemporary romance novels and one novella with Kensington and Harlequin, Angela made a faith move to Christian fiction in 2000 with the publication of Awakening Mercy, the first book in her Genesis House series from Tyndale House Publishers. Awakening Mercy was a finalist for both the RITA Award given by Romance Writers of America (RWA) and the Christy Award for Excellence in Christian Fiction. The second book in the Genesis House series, Abiding Hope, was published in September 2001. Abiding Hope was awarded the Emma Award for Best Inspirational Romance presented by the Romance Slam Jam. The third book and final book of the series, Enduring Love, is not yet scheduled.
BET Books, now Harlequin's Kimani Press purchased the mass market rights to Awakening Mercy and Abiding Hope in 2000 and released mass market editions of the titles in June 2002 and June 2003, respectively.
Angela's first hardcover title, The Amen Sisters, was released in September 2005 by Walk Worthy Press. The Essence bestselling title won the Emma Award for Best Inspirational Romance. The trade paperback edition was released in November 2007.
Up Pops the Devil, published by HarperCollins (Avon A) in August 2008, was Angela's eleventh novel. It was selected the November 2008 African-American Book Club Pick at Books-A-Million and was featured in the September-October 2008 issue of UPSCALE Magazine.
Angela's twelfth novel, Sins of the Father (Avon A), hits bookstores in September 2009. Her second novella, Showers of Blessings, in the A Million Blessings (Dafina) anthology, was published in March 2010.
Angela has a diverse education and work history. She majored in mathematics at Spelman College and Industrial Engineering at the Georgia Institute of Technology (Georgia Tech), and worked for fifteen years as an engineer in the telecommunications industry. She holds Masters degrees in operations research and human resources development. Her most recent degree is a doctorate in instructional technology from the University of Georgia. Dr. Benson is now an associate professor of educational technology at The University of Alabama.