Anna Claybourne
< Back to author list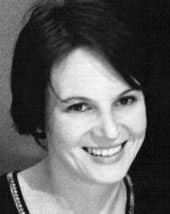 Freelance children's writer and editor, based in Edinburgh, Scotland.
Anna Claybourne writes children's information books on all kinds of topics: science experiments, ancient history, the human body, things to make, the environment, robots, evolution, art, fashion, Shakespeare and many more - as well as retellings of myths, legends and Shakespeare plays, and rhyming stories.
She studied English literature at university, but has always been interested in science, technology and art and design as well. She loves making and crafting, especially sewing, and her house is full of fabrics, craft materials, tools and books. Other interests and passions include camping, cats, outdoor swimming, news and politics, and music - she plays the trombone and has played in many different bands and orchestras, including performing live on a John Peel session in 2002 with Scottish band Ballboy.
Anna was born and grew up in Yorkshire, but has also lived in Canada as a student, Iceland as an au pair, and Costa Rica as a conservation volunteer, where she saw tarantulas, tapirs, monkeys, sloths, crocodiles and giant katydids. She now lives in Edinburgh with her two children and two cats, Skye and Socks.
Books By Anna Claybourne
Displaying all 2 products