Ashley Elizabeth Ludwig
< Back to author list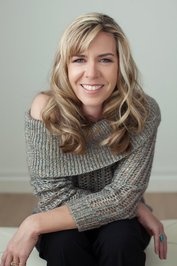 Hello. I'm Ashley Ludwig — an inspirational romance writer, and mama of two amazing little girls.
I spend the majority of my time wrangling them (with the help of my amazing husband — whom everyone knows is a superhero in disguise!)
An Arizona native, love uprooted me about twelve years ago, and transplanted me alongside my husband in Southern California wine country.
I received my Bachelor of Arts from the University of Arizona, with a degree in Anthropology, and a minor in History & Humanities.
Though I never enjoyed going to school, I loved learning! I excelled in anthropology, though much of what I learned challenged the beliefs I grew up with. Studying Anthropology of Religion landed me in the corner of my freshman dorm room, on the phone with my mother — in tears. My belief system was being rocked to the core.
It was her soft spoken wisdom that sent me back to study more in depth. She told me that if my faith was strong, nothing would shake it. And the best way to firm up my own belief system was to learn more about others and what they believed so that I could talk to them with intelligence, armed with wisdom and the ability to think critically.
I rolled up my sleeves and embraced learning about Hopi Language and Culture, Humanities, Classical Anthropology and Archaeology, and Human Evolution. With her at my back, I raised my hand more than a time or two, and challenged others to look at the world, and what we were memorizing and regurgitating, with new eyes.
I tried my hand at Classics, but sad to say, I didn't apply myself at the tough stuff. I fell for the wrong guy and took a semester off of school, and worked as a receptionist for a contract Environmental Company–that had archaeologists, biologists, and researchers on staff. That got my attention. You mean, people actually could WORK as archaeologists?
So, I grit my teeth and went back to school. I graduated with a degree in Anthropology and worked as an Archaeologist across the American southwest for several years. I studied under some amazing archaeologists and historians at SWCA Environmental company, before searching for greener, less dusty pastures.
Some of the more obscure jobs I've held include: pouring wine (for a living – and for fun!), constructing silk trees, working as a cook, server, and caterer for a small catering company. I built exhibits, working as an assistant Exhibits Preparator for the Tucson Children's Museum, and briefly worked as a docent for the La Brea Tar Pits (even tried my hand at excavating a saber toothed tiger!). I spent a summer interning for Casting Director, Mali Finn, on the Warner Brother's Lot and worked as a PA for a Nickelodeon Kid's show, The Secret World of Alex Mack. When the dot.com craze began, I assisted a dear friend with starting her Web development company, as project manager and copy writer/editor.
I've turned my passion for research and attention to historical detail to my true love: writing inspirational and historical romances. Please look for the historical, inspirational romance — Both All or Nothing and my inspirational novella, By Another Name, are now available from White Rose Publishing, Powell's, Amazon.com, Barnes & Nobel, IndieBooks.com, and other online retailers.
Please visit
http://www.ashleyludwig.com
for more information.
Books By Ashley Elizabeth Ludwig