Ashley French
< Back to author list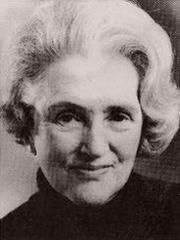 Denise Naomi Klein was born on 1 February 1897 in London, England, daughter of Herman Klein (1856-1934) and Kathleen Clarice Louise Cornwell (1872-1954). Her parents married on 19 February 1890 at the West London Synagogue, her father was a English music critic, author and teacher of singing and her mother was a Australian-born heiress, 16 years younger than him. Denise had a half-sister, Sibyl Klein, who became an actress. She also had two older brothers, Adrian Bernard L. Klein (1892-1969), who later changed his name to Adrian Cornwell-Clyne and wrote books on photography and cinematography, and Daryl Kleyn (b. 1894). During her parents marriage, her mother began an affair with a young Worcestershire Regiment officer, Herbert Arthur Berkeley Dealtry (b. 1878). When her father became aware of it, he filed a petition for divorce, which was granted in December 1901. After the divorce, her mother married Dealtry in 1902, but they were going through financial difficulties. They had to declare bankruptcy in 1905. The same year her father remarried with Helene Fox, a Christian Science practitioner of Boston, Massachusetts.
As
Kit Dealtry
, her mother began to publish her own writings, first short stories in magazines an later gothic novels. Years later, and single again her mother returned to London. In 1918, and remarried for a third time with Sydney H. Groom, and started to sign her novels as
C. Groom
,
Mrs Sydney Groom
,
Kathleen Clarice Groom
and
Clarice Groom
. After Naomi left school, she decided follow in her mother's footsteps, and to publish her writings. She went to work as a journalist for the D.C. Thomson Press, then became a freelance writer. Denise married Arthur Robins, a corn broker on the Baltic Exchange, but the marriage ended in divorce, after she met O'Neill Pearson in Egypt, who later became her second husband. She was the mother of three daughters,
Patricia Robins
(also know as
Claire Lorrimer
) who became another best-selling romance author, Anne, and Eve.
As a writer of fiction, Denise wrote short stories, plays and about 200 gothic romance novels under a variety of pseudonyms, including:
Denise Chesterton
,
Hervey Hamilton
,
Francesca Wright
,
Ashley French
,
Harriet Gray
, and
Julia Kane
, she also used to sign the books her first married name,
Denise Robins
, and some of her books were reedited under this pen-name. In 1927, over ten years after she began to publish
Books By Ashley French
Displaying all 3 products