Bapsi Sidhwa
< Back to author list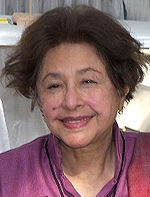 Bapsi Sidhwa is Pakistan's leading diasporic writer. She has produced four novels in English that reflect her personal experience of the Indian subcontinent's Partition, abuse against women, immigration to the US, and membership in the Parsi/Zoroastrian community. Born on August 11, 1938 in Karachi, in what is now Pakistan, and migrating shortly thereafter to Lahore, Bapsi Sidhwa witnessed the bloody Partition of the Indian Subcontinent as a young child in 1947. Growing up with polio, she was educated at home until age 15, reading extensively. She then went on to receive a BA from Kinnaird College for Women in Lahore. At nineteen, Sidhwa had married and soon after gave birth to the first of her three children. The responsibilities of a family led her to conceal her literary prowess. She says, "Whenever there was a bridge game, I'd sneak off and write. But now that I've been published, a whole world has opened up for me." (Graeber) For many years, though, she says, "I was told that Pakistan was too remote in time and place for Americans or the British to identify with"(Hower 299). During this time she was an active women's rights spokesperson, representing Pakistan in the Asian Women's Congress of 1975.
After receiving countless rejections for her first and second novels, The Bride and The Crow Eaters, she decided to publish The Crow Eaters in Pakistan privately. Though the experience was one she says, "I would not wish on anyone," it marks the beginning of her literary fame (Sidhwa "Interview" 295). Since then, she has received numerous awards and honorary professorships for these first two works and her two most recent novels, Cracking India and An American Brat. These include the Pakistan National honors of the Patras Bokhri award for The Bride in 1985 and the highest honor in the arts, the Sitari-I-Imtiaz in 1991. Her third novel, Cracking India was awarded the German Literaturepreis and a nomination for Notable Book of the Year from the American Library Association, and was mentioned as a New York Times "Notable Book of the Year," all in 1991. A Bunting Fellowship from Harvard and a National Endowment of the Arts grant in 1986 and 1987 supported the completion of Cracking India. Most recently she was awarded a $100,000 grant as the recipient of the Lila Wallace-Reader's Digest Award in 1993. Her works have now been translated into Russian, French and German. She is currently working on collections of short stories and essays, while fulfilling her duties as Writer-in-Residence and English professor at Mt. Holyoke College. She has also taught college-level English courses at St. Thomas University, Rice University, and The University of Texas, all in Houston, as well as at the graduate level at Columbia University, NY.
No results
We couldn't find a match for these filters.
Please try another choose.