Bernard of Cluny
< Back to author list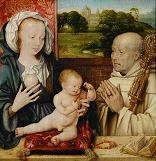 Bernard of Cluny (or, of Morlaix) was a 12th century Benedictine monk.
Bernard's family of origin and place of birth are not known for certain. Some Medieval sources list Morlaàs in Béarn as his birthplace. However, in some records from that period he is called Morlanensis, which would indicate that he was a native of Morlaix in Brittany. A writer in the Journal of Theological Studies (1907), VIII, 354-359, contended that he belonged to the family of the seigneurs of Montpellier in Languedoc, and was born at Murles. It is believed that he was at first a monk of Saint-Sauveur d'Aniane and that he entered the monestary of Cluny during the administration Abbot Pons (1109–1122).
Several of Bernard's sermons and a theological treatise, dialogue (Colloquium) on the Trinity remain extant, as does a circa. 1140 poem which he dedicated to the monestary's abbot Peter the Venerable (1122–1156).
No results
We couldn't find a match for these filters.
Please try another choose.