Bill Johnson
< Back to author list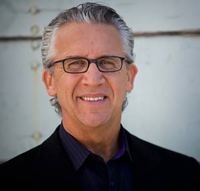 Bill Johnson and his wife Brenda (Beni) Johnson are the Senior Pastors of Bethel Church in Redding, California. Johnson is a fifth generation pastor.
Johnson was born in Minnesota in 1951 and became a Christian as a young child. Soon after, Johnson read seven books on prayer, which significantly affected his perspective and subsequent ministry.
Bill Johnson and his wife have three children: Eric, Brian and Leah.
Johnson speaking at a conference
Bill Johnson and Beni (Brenda) began as singles pastors under his father at Bethel. In 1979, they became senior pastors of Mountain Chapel in Weaverville, California.
While pastoring in Weaverville, Johnson attended a 1987 conference led by John Wimber, founder of the Vineyard Church Movement. According to Johnson "A number of healings and manifestations broke out and I didn't know what to do with it. I didn't object to it, I wasn't opposed to it; I just didn't know how to pastor it in a way that it would continue and increase".
In 1995, Johnson attended the Toronto Blessing revival at the Toronto Airport Vineyard church. Johnson relates: "In Toronto I said, 'Lord, if You touch me again I will never change the subject.' So I went up for prayer every time it was offered. I didn't have anything dramatic happen, but I came home and said, 'I am going to give the rest of my life to this.'"
In February 1996, after 17 years of leading the Weaverville church, the Johnsons were invited to become senior pastors of Bethel. Today Johnson describes Bethel as a church where "everything we do either fuels revival or is fueled by revival." Under his leadership, Bethel left the Assemblies of God in 2006 to become a nondenominational charismatic church.
According to a recent book written by Johnson, "Face to Face with God", Bethel is "a church where supernatural encounters with God happen regularly, miracles are common, and the congregation has an infectious passion for spiritual growth." The church has approximately 1,500 members, and a School of Supernatural Ministry.
Their Bethel School of Supernatural Ministry has 1,200 students enrolled with over 370 from other countries. Johnson leads a network of churches dedicated to global, multi-generational revival, Global Legacy. Johnson has written a number of books and travels extensively as a featured revival conference speaker. Johnson is also involved with the Northern California Revival Fellowship, a group of north Californian pastors committed to revival.
Source: Wikipedia