Bob Springett
< Back to author list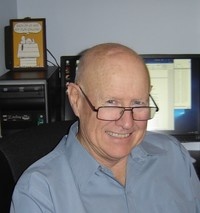 Born 1952 in Sydney, Australia, the first child of three to a metal tradesman and an office assistant.
Attended New South Wales State schools, progressing through the Opportunity Class programme before going to Drummoyne Boys' High School (NSW State system).
Gained a cadetship through the Electricity Commission of N.S.W. to study Civil Engineering full-time at Sydney University.
Married in 1973.
Gained a degree in Civil/Structural Engineering in 1974 and commenced work in the New South Wales Electricity Commission, principally working in Power Station Design.
Two daughters, born in 1983 and 1985.
Started his own Engineering Consultancy in 1986. This grew to a peak of 5 engineers, four architectural staff and one administrator before being wound up in 2007.
Active in politics between 1986 and 2007, including several candidacies for Parliament and a term as New South Wales President of the Australian Democrats, a progressive/centrist party that held the Federal balance of power for twenty years.
Gained a Bachelor of Theology degree part-time in 2008, with emphasis on Pastoral Care and Church History.
Active amateur sportsman, playing amateur soccer into his fifties and cricket until age 58 when he realised he was starting to lose his stamina under the Australian sun. Continued playing social tennis and social mixed netball until age 63 when atrial fibrillation and a transient stroke slowed him down.
A long-term hobby exercise became a series of four books, totalling over a million words, as an 'alternative history' of ancient Rome from 91 B.C. to 142 A.D.. These were self-published between 2013 and 2015 under the pen-name 'Tito Kithes Athano'. He particularly enjoyed weaving an 'alternative Christianity' into books three and four of this series.
Then he got serious, producing 'Pope Barnabas' and 'Bones' under his real name with a proper professional approach.
And he's still married to the same woman who had pity on him in 1973!