Bruce Lansky
< Back to author list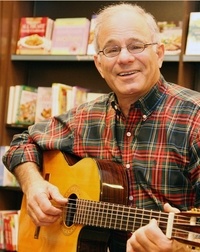 I was born on June 1, 1941. My first home was an apartment in Manhattan's Upper West Side, a neighborhood that overlooked the George Washington Bridge. Soon after kindergarten, my family moved to Scarsdale, which seemed to be "in the country." In high school, I broke my ankle when I went out for the lacrosse team, so I wrote a sports column for the school newspaper. I don't think I showed any particular talent for writing then.
I went to St. John's College in Annapolis, Maryland. I actually learned to read Greek (I didn't understand it, though). I transferred from St. John's to New York University, so I could study political science and economics. I graduated with a major in philosophy and a minor in English. My first job was a market researcher for a beer company in New Jersey. Over the next five years, I switched jobs several times: advertising copywriter, advertising account executive, and marketing manager at a candy company.
I married Vicki and we had a baby, Douglas. I wanted him to have a home surrounded by grass and trees and ball fields, so I accepted a job in Minnesota, and Doug got a baby sister, Dana. What rescued me from poverty was that my wife and some other mothers wrote a cookbook. We published it ourselves, and it was a huge hit. That's how I figured out that I wanted to be a publisher when I grew up. We built Meadowbrook Press, and I became an author of baby name books and humor books for adults.
Ten years ago, I wanted to put together a children's book of all the poems they loved best. To find these poems, I tested poems in elementary schools. As I was testing poems on children, I decided to write a few to see what the response would be. At first it wasn't that good, but as my writing improved, I added my poems to new books. To get them just right, I'd rewrite them over and over. I've now edited six poetry anthologies and filled three books with my own poems. Because I spent a lot of time reading and testing poems in classrooms, schools started inviting me to perform. I've now performed at hundreds of schools. My goal to put on the most entertaining, most educational, and most motivating assembly a school has ever had. My web site,
http://www.gigglepoetry.com
, helps kids discover the fun of reading and writing poetry.
Language arts are a very important part of what you learn in school. You can read great books that take you to far-away lands. You can write your own stories and make yourself the hero of exciting adventures. Even if it seems hard sometimes, don't give up. Keep practicing your reading and writing skills, and soon it will become easier. There are so many wonderful worlds to explore in books and poetry. Get your very own passport by learning to read and write the very best that you can.