Carl Barks
< Back to author list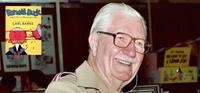 Carl Barks (March 27, 1901 – August 25, 2000) was an American Disney Studio illustrator and comic book creator, who invented Duckburg and many of its inhabitants, such as Scrooge McDuck (1947), Gladstone Gander (1948), the Beagle Boys (1951), The Junior Woodchucks (1951), Gyro Gearloose (1952), Cornelius Coot (1952), Flintheart Glomgold (1956), John D. Rockerduck (1961) and Magica De Spell (1961). The quality of his scripts and drawings earned him the nicknames "The Duck Man" and "The Good Duck Artist".
People who work for Disney generally do so in relative anonymity; the stories only carry Walt Disney's name and (sometimes) a short identification number. Prior to 1960, the creator of these stories remained a mystery to his readers. However, many readers recognized Barks' work and drawing style, and began to call him the Good Duck Artist, a label which stuck even after his true identity was discovered by John and Bill Spicer in 1959. After Barks received a 1960 visit from Bill and John Spicer and Ron Leonard, he was no longer anonymous, as his name soon became known to his readers.
Writer-artist Will Eisner called him "the Hans Christian Andersen of comic books." In 1987, Barks was one of the three inaugural inductees of the Will Eisner Comic Book Hall of Fame.
(From wikipedia)