Carl Linnaeus
< Back to author list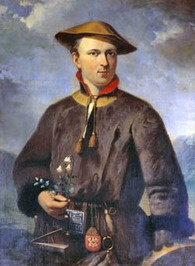 Carl Linnaeus was a Swedish botanist, physician, and zoologist, who laid the foundations for the modern biological naming scheme of binomial nomenclature. He is known as the father of modern taxonomy, and is also considered one of the fathers of modern ecology.
Linnaeus was born in the countryside of Småland, in southern Sweden. He received most of his higher education at Uppsala University, and began giving lectures in botany there in 1730. He lived abroad between 1735 and 1738, where he studied and also published a first edition of his
Systema Naturae
in the Netherlands. He then returned to Sweden, where he became professor of medicine and botany at Uppsala. In the 1740s, he was sent on several journeys through Sweden to find and classify plants and animals. In the 1750s and '60s, he continued to collect and classify animals, plants, and minerals, and published several volumes. At the time of his death, he was one of the most acclaimed scientists in Europe.
The Swiss philosopher
Jean-Jacques Rousseau
sent him the message: "Tell him I know no greater man on earth." The German writer
Johann Wolfgang von Goethe
wrote: "With the exception of
Shakespeare
and
Spinoza
, I know no one among the no longer living who has influenced me more strongly." Swedish author August Strindberg wrote: "Linnaeus was in reality a poet who happened to become a naturalist". Among other compliments, Linnaeus has been called Princeps botanicorum (Prince of Botanists) and "The Pliny of the North,".
According to German biologist
Ernst Haeckel
, the question of man's origin began with Linnaeus. He helped future research in the natural history of man by describing humans just as he described any other plant or animal.
Linnaeus classified humans among the primates (as they were later called) beginning with the first edition of Systema Naturae. During his time at Hartekamp, he had the opportunity to examine several monkeys and noted similarities between them and man. He pointed out both species basically have the same anatomy; except for speech, he found no other differences. Thus he placed man and monkeys under the same category, Anthropomorpha, meaning "manlike."
The theological concerns were twofold: first, putting man at the same level as monkeys or apes would lower the spiritually higher position that man was assumed to have in the great chain of being, and second, because the Bible says man was created in the image of God (theomorphism), if monkeys/apes and humans were not distinctly and separately designed, that would mean monkeys and apes were created in the image of God as well. This was something many could not accept. The conflict between world views based on science and theology that was caused by asserting man was a type of animal would simmer for a century until the much greater, and still ongoing, creation–evolution controversy began in earnest with the publication of
On the Origin of Species
by
Charles Darwin
in 1859.
Anniversaries of Linnaeus' birth, especially in centennial years, have been marked by major celebrations. Linnaeus has appeared on numerous Swedish postage stamps and banknotes. There are numerous statues of Linnaeus in countries around the world. The Linnean Society of London has awarded the Linnean Medal for excellence in botany or zoology since 1888. Following approval by the Parliament of Sweden, Växjö University and Kalmar College merged on 1 January 2010 to become Linnaeus University. Other things named after Linnaeus include the twinflower genus Linnaea, the crater Linné on the Earth's moon and the cobalt sulfide mineral Linnaeite.
No results
We couldn't find a match for these filters.
Please try another choose.