Caryl McAdoo
< Back to author list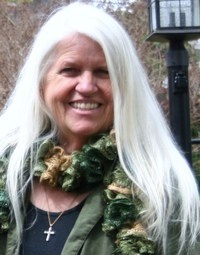 Born in California,
Caryl McAdoo
got to Texas in time to celebrate her first birthday. As a Dallas seventh grader, she remembers a homework essay on 'What will you be doing in 2000?' Looking into the future, she saw herself as an inter-galactically famous author, streaking from planet to planet signing books.
She laughs, "But I didn't start writing again until the late '80s, then was so blessed to find the DFW Writers' Workshop in '93."
Her first book debuted '99, then for the next nine years, she averaged a title a year from four presses: two non-fiction, four novels, and three mid-grade chapter books.
In March 2014, her first historical Christian romance
VOW UNBROKEN
debuted from Howard Books, an imprint of Simon & Schuster.
In April, she re-released LADY LUCK'S A LOSER (formerly The Apple Orchard Bed and Breakfast) with a new chapter. In September that same year HEARTS STOLEN, book two in the Texas Romance Family Saga historical romance series, debuted, and in November A LITTLE LOWER THAN THE ANGELS, her first Biblical fiction series The Generations launched. So four titles in 2014.
Book three of the historical Family Saga HOPE REBORN debuted in January to start off a whole new year with eleven new titles planned. THE PREACHER'S FAITH comes in February, Caryl's first contemporary in Red River Romance series. THEN THE DELUGE COMES, volume two of The Generations, follows in March.
Since 2014, she's published over fifty new books, averaging over seven new titles a year. She completed the 'Texas Romance Family Saga' with a total of ten novels, plus several 'Texas Companion Books'! Plus she's seven books into a second series, the 'Cross Timbers Romance Family Saga' series.
Also known as Grami, she loves twenty-one grandsugars, and she and O'Pa—her high school sweetheart and husband of fifty+ years write together. She's dedicated to advancing God's Kingdom through her novels, praying her story gives God glory!
Caryl loves to share her testimony, pray, and praise and worship Him; He frequently gives her new songs.
She believes all good things are from Him and that her books will minister His love, mercy, and grace to her readers.
Irving, Texas remained her lifelong home until 2008 when she and Ron followed God's leading to Red River County in the far northeast corner of the Lone Star State. There at The Peaceable, the twenty acres of blessings they call home, the McAdoos wait for God to open the next door!