Charles W. Hedrick
< Back to author list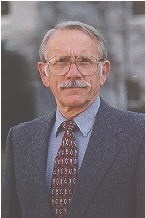 The following is taken from Mr. Hedrick's website.
My name is Charles Webster Hedrick, but my friends call me "Charlie," a nickname I decided on when I left high school for college back in 1952. It stuck. My son, Charles, Jr., whom I call "Cholie," does not like it at all and insists on being called Charles--but he calls his son, Charles III, "Chaz." I will stick with "Charlie" for now, but have given some consideration to going back to "Charles" as being more appropriate for an aging New Testament professor.
I was educated at a small Southern Baptist liberal arts college in the deep south (Mississippi College, Clinton, Mississippi, 1958) and a Southern Baptist Seminary (Golden Gate, Mill Valley, California, 1962). After seminary, I was pastor of the First Baptist Church in Needles, California for three years, resigning to return to my studies in 1965. I worked as a Deputy Probation Officer in Los Angeles County (Juvenile Probation) for 13 years while I completed an M.A. at the University of Southern California (1968) and a Ph.D. at Claremont Graduate School (1977).
Southwest Missouri State University
901 S. National Ave.
Springfield, Missouri 65804
e-mail: charles@charleshedrick.com
fax: 417-862-8207
I am married to Peggy, who was a traditional housewife for about 20 years while our children were growing up. Today Peggy is an attorney with two law degrees and a private law practice in Springfield, MO, where we have lived for many years.
Together, Peggy and I have three children (Charles, Jr., Janet Lucinda, and Lois Kathryn) and seven grandchildren (Christopher, Katie, Kimberly, Chaz, Meg, Ella, and Mary). Peggy has a cat named Itty Bitty and a dog named Jack that I am slowly learning (with difficulty) to tolerate.
I retired as a U.S. Army Reserve Chaplain (Colonel) after 30 years' service. My highest award was the "Legion of Merit." I have served as pastor of churches in Mississippi, California, and New York City. In December 2004, I retired from teaching for the Religious Studies Department at Southwest Missouri State University, where I had been a religious studies professor since 1980.
Research Interests
My research interests should be described as focusing on Christian origins. I taught subjects related to that interest at Southwest Missouri State University in Springfield, Missouri (viz., Jesus of Nazareth, New Testament Introduction, Parables, Gnosticism, etc.). My publications have been primarily in the area of Gospels, Nag Hammadi, Gnosticism, the Graeco-Roman world, and related topics. My book on parables, Parables as Poetic Fictions, The Creative Voice of Jesus [Hendrickson, Literary Critic issue]), published in 1994 raises, I think, some significant issues for the study of the parables, which is the backbone of the Jesus tradition. Two recent books (I do not recommend having two books in press at the same time) are The Gospel of the Savior, A New Ancient Gospel (Polebridge, 1999) and When History and Faith Collide: Studying Jesus (Hendrickson, 1999). The Gospel of the Savior is the first publication of a new gospel manuscript in Coptic whose composition dates before the latter half of the second century C.E. I found languishing in the Berlin, Germany Egyptian Museum. When History and Faith Collide is an inductive study of the problem of attempting to describe Jesus of Nazareth as a historical human being. It is written for college students, and is intended to help them engage the problem for themselves. My most recent book, Many Things in Parables, Jesus and his Modern Critics, establishes a consistent theory for my approach to Parables. It is written for the non-specialist. If you are interested in more information on my research, publications, or activities look at the curriculum vitae.
No results
We couldn't find a match for these filters.
Please try another choose.