Chris Impey
< Back to author list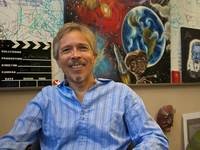 Chris Impey is a University Distinguished Professor in the Astronomy Department and Associate Dean in the College of Science at the University of Arizona in Tucson. He has written popular articles on astronomy and is the author of a number of popular science books.
The Living Cosmos
is a tour of the search for life in the universe, and the pair of books
How It Ends
and
How It Began
cover the origin and fate of everything in the universe.
Talking About Life
is a series of conversations with pioneers in astrobiology. With Holly Henry, he wrote about the scientific and cultural impact of a dozen iconic NASA missions,
Dreams of Other Worlds
. A book about his experiences teaching cosmology to Tibetan monks,
Humble Before the Void
was published in 2014, and his book about the future of humans in space, called
Beyond
, was published in 2015. His first novel is called
Shadow World.