Christian Harfouche
< Back to author list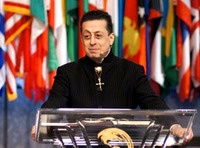 Today, Dr. Harfouche continues to travel worldwide with his wife and their crusade team, ministering in miracle-soul winning crusades and conferences as well as providing humanitarian relief through their R.E.A.C.H. organization. As a nationally recognized speaker, author, and teacher, he continues to maintain a busy ministry schedule, touring multiple nations and cities each year. By 1990 alone, it was estimated by their staff that Apostle Doctor Harfouche, and his wife Apostle Doctor Robin Harfouche, had personally laid hands on over 1 million people, seeing hundreds of thousands of miracles take place in people's bodies. Apostle Doctor Harfouche is a best selling author, having written 12 books and developed hours of curriculum that is used in churches worldwide. As the founder and president of the International Miracle Institute, a fully accredited Bible education program, he has trained over 100,000 students in 222 nations to date. Apostle Doctor Harfouche also hosts the Miracles Today television program. Miracles Today can be viewed in Asia, the Middle East, Europe, Africa, India, select US cities, and throughout the 10/40 window. Miracles Today reaches more than 750 million viewing households. Dr. Harfouche also developed a world class magazine, Miracle Times. This high gloss publication is distributed throughout the United States and enjoys a broad base of readership, both nationally and internationally. The 30-year commemorative issue established a new benchmark for excellence in the industry. Apostle Doctor Harfouche's ministry has also been featured on the covers of many national and international magazines. In addition, he has been a guest on a wide range of radio and television programs, including Sirius Satellite Radio, CNN, ABC, TBN, 700 Club, It's Supernatural, Daystar, and others. Apostle Doctor Harfouche is the founder and senior pastor of Miracle Faith Apostolic Global Church, a fast-growing, multi-cultural, cross-denominational church, who's headquarters is housed on 14 acres in the heart of Pensacola, Florida.
No results
We couldn't find a match for these filters.
Please try another choose.