Clair M. Poulson
< Back to author list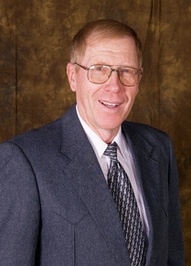 Clair M. Poulson was born and raised in Duchesne, Utah. His father was a rancher and farmer, his mother a librarian. Clair has always been an avid reader, having found his love for books as a very young boy.
He has served for forty years in the criminal justice system. Twenty years were spent in law enforcement, ending his police career with eight years as the Duchesne County Sheriff. For the past twenty years Clair has worked as a justice court judge for Duchesne County. Clair is also a veteran of the US Army where he was a military policeman. He has served on various boards and councils during his professional career, including the Justice Court Board of Judges, Utah Commission on Criminal and Juvenile Justice, Utah Judicial Council, Utah Peace Officer Standards and Training Council, an FBI advisory board and others.
In addition to his criminal justice work, Clair has farmed and ranched all of his life. He has raised many kinds of animals, but his greatest interest is horses.
Clair has served in many capacities in the LDS church, including fulltime missionary (California Mission) bishop, counselor to bishop, young men president, high councilor, stake mission president, scoutmaster, High Priest group leader, etc. He currently serves as a Sunday School teacher.
Clair is married to Ruth, and together, they have five children, all of whom are married: Alan (Vicena) Poulson, Kelly Ann (Wade) Hatch, Amanda (Ben) Semadeni, Wade (Brooke) Poulson, and Mary (Tyler) Hicken. Between them they have twenty-three children. Clair and Ruth met while both were students at Snow College and were married in the Manti temple.
Clair has always loved telling his children, and later his grandchildren, make-up stories. His vast experience in life and his love of literature has always contributed to both his telling stories to children and his writing of adventure and suspense novels.
No results
We couldn't find a match for these filters.
Please try another choose.