Claire Rayner
< Back to author list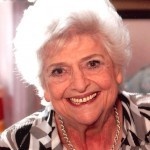 Claire Berenice Rayner OBE (née Berk; born 22 January 1931) is an English journalist best known for her role for many years as an agony aunt.
Rayner is Vice-President (and former President) of the British Humanist Association, a Distinguished Supporter of the Humanist Society of Scotland and an Honorary Associate of the National Secular Society. She is also a prominent supporter of the British republican movement.
She was awarded an OBE in 1996 for services to women's issues and to health issues.
In 1999 Rayner was appointed to a committee responsible for reviewing the medical conditions at Holloway Prison, London, at the direction of Paul Boateng who was then the Minister for Prisons. The recommendations of this committee led to far reaching changes in the provision of medical care within Holloway.[3:]
She is president of the Patients Association and is the author of a chapter in The Future of the NHS (2006) (ISBN 1-85811-369-5) edited by Dr. Michelle Tempest.
On 4 January 2007, she hosted an episode of the BBC Radio 4 quiz, The Personality Test.
Rayner expressed delight to be an Ambassador for Hearing Concern in the charity's Diamond Jubilee year:
"I feel that this charity represents people like me who have been part of the hearing world for most of their lives and have suddenly found themselves having to cope with a hearing loss. It changes your perspective on things which is why I am so pleased to be able to help Hearing Concern raise awareness of this hidden disability and get rid of the taboo that surrounds the deaf and the hard of hearing once and for all."
Rayner also has a very personal reason for supporting Sense's Older Person campaign. she wears hearing aids in both ears and also has Age Related Dry Macular Degeneration, a sight loss common in older people. Rayner helped Sense to promote "The Good Life" campaign booklet, tips on how to cope with sight and hearing loss in older age.