Clement C. Moore
< Back to author list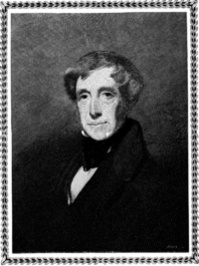 Clement Clarke Moore, (July 15, 1779 – July 10, 1863), is best known as the credited author of A Visit From St. Nicholas (more commonly known today as Twas the Night Before Christmas).
Clement C. Moore was more famous in his own day as a professor of Oriental and Greek literature at Columbia College (now Columbia University) and at General Theological Seminary, who compiled a two volume Hebrew dictionary. He was the only son of Benjamin Moore, a president of Columbia College and bishop of the Episcopal Diocese of New York, and his wife Charity Clarke. Clement Clarke Moore was a graduate of Columbia College (1798), where he earned both his B.A. and his M.A.. He was made professor of Biblical learning in the General Theological Seminary in New York (1821), a post that he held until 1850. The ground on which the seminary now stands was his gift. [1] From 1840 to 1850, he was a board member of The New York Institution for the Blind at 34th Street and 9th Avenue (now The New York Institute for Special Education). He compiled a Hebrew and English Lexicon (1809), and published a collection of poems (1844). Upon his death in 1863 at his summer residence in Newport, Rhode Island, his funeral was held in Trinity Church, Newport, where he had owned a pew. Then his body was interred in the cemetery at St. Luke's Episcopal Church on Hudson St., in New York City. On November 29, 1899, his body was reinterred in Trinity Churchyard Cemetery in New York.
The Moore house, Chelsea, at the time a country estate, gave its name to the surrounding neighborhood of Chelsea, Manhattan, and Moore's land in the area is noted today by Clement Clark Moore Park, located at 10th Avenue and 22nd Street. The playground there opened November 22, 1968, and it was named in memory of Clement Clarke Moore by local law during the following year. The 1995 renovations to Clement Clarke Moore Park included a new perimeter fence, modular play equipment, safety surfacing, pavements and transplanted trees. This park is a popular playground area for local residents, who gather there the last Sunday of Advent for a reading of Twas the Night Before Christmas. [2]
Much of the neighborhood was once the property of Maj. Thomas Clarke, Clement's maternal grandfather and a retired British veteran of the French and Indian War. Clarke named his house for a hospital in London that served war veterans. 'Chelsea' was later inherited by Thomas Clarke's daughter, Charity Clarke Moore, and ultimately by grandson Clement and his family. Clement Clarke Moore's wife, Catharine Elizabeth Taylor, was of English and Dutch descent being a direct descendant of the Van Cortlandt family, once the major landholders in the lower Hudson Valley of New York.
As a girl, Moore's mother, Charity Clarke, wrote letters to her English cousins that are preserved at Columbia University and show her disdain for the policies of the English Monarchy and her growing sense of patriotism in pre-revolutionary days.
The Moore children have several living descendants among them members of the Ogden family. In 1855, one of Clement's daughters, Mary C. Moore Ogden painted 'illuminations' to go with her father's celebrated verse. A book with her paintings as illustrations is A Visit from St. Nicholas (Twas the Night Before Christmas). Copyright 1995 by International Resourcing Services, Inc., 60 Revere Drive, Suite 725, Northbrook, Illinois, 60062.