Cornelius Ryan
< Back to author list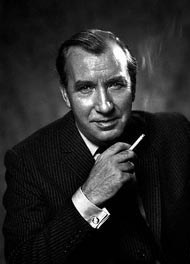 Ryan was born in Dublin. After finishing his education Ryan moved to London in 1940, and became a war correspondent for ''The Daily Telegraph'' in 1941.
He initially covered the air war in Europe during WW II, flew along on fourteen bombing missions with the Eighth Air Force and Ninth Air Force United States Army Air Forces (USAAF), then joined General Patton's Third Third Army and covered its actions until the end of the European war. He transferred to the Pacific theater in 1945, and then to Jerusalem in 1946.
Ryan emigrated to the United States in 1947 to work for
Time
magazine, where he reported on the postwar tests of atomic weapons carried out by the United States in the Pacific. This was followed by work for other magazines, including
Collier's Weekly
and
Reader's Digest
.
He married Kathryn Morgan (1925–1993), a novelist, and became a naturalized citizen of the United States in 1951.
On a trip to Normandy in 1949 Ryan became interested in telling a more complete story of D-Day than had been produced to date. He began compiling information and conducting over 1000 interviews as he gathered stories from both the Allies and the Germans, as well as the French civilians.
In 1956 he began to write down his World War II notes for
The Longest Day
, which tells the story of the invasion of Normandy. Published in 1959 it was an instant success.
His next work was
Last Battle The Classic History of the Battle for Berlin
(1966), about the Battle of Berlin.
This work was followed by
A Bridge Too Far
(1974), which tells the story of Operation Market Garden, the ill-fated assault by allied airborne forces on the Netherlands culminating in the Battle of Arnhem.
Ryan was awarded the French Legion of Honor, and an honorary Doctor of Literature degree from Ohio University, where the Cornelius Ryan Collection is housed (Alden Library). He was diagnosed with cancer in 1970, and struggled to finish
A Bridge Too Far
during his illness. He died in Manhattan, while on tour promoting the book,
A Bridge Too Far
, only two months after publication.
Four years after his death, Ryan's struggle with cancer was detailed in
A Private Battle
written by his wife, from notes he had secretly left behind for that purpose. He is buried in the Ridgebury Cemetery in northern Ridgefield, Connecticut.
Biography info:
http://en.wikipedia.org/wiki/Corneliu...
No results
We couldn't find a match for these filters.
Please try another choose.