Curtis Bunn
< Back to author list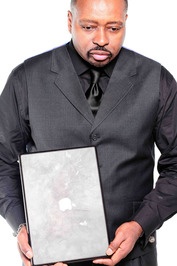 Curtis Bunn, a Washington, D.C. native and graduate of Norfolk State University, is an Essence No. 1 best-selling author whose ability to expose the mind, thoughts, motivations and vulnerabilities of his characters has made him a reader's favorite.
In his latest offering, "A Cold Piece of Work" (July 2011, Strebor Books), Curtis again delivers an engaging work in an original story that takes the reader on a thought-provoking journey. Solomon Singletary is an ideal catch — except that he finds it more satisfying to leave women than to please them — and sometimes after pleasing them. Years later, he encounters one of his "victims," and immediately realizes he made a serious mistake. His mission then is to recapture Michele Williams' heart, thinking reuniting with her would turn his cold heart warm. The odyessy features surprising subplots and twists that keeps the pages turning.
In 2001, Curtis crafted his first novel, "Baggage Check" and watched in amazement as it became a word-of-mouth national success. The audacious, moving and funny story of Greg, Larry and Julian blossomed into a must-read for women and book clubs who sought a genuine peak into the psyche of men. Significantly, men embraced the book as an accurate depiction of their mindset, motivations and conflicts. It debuted as No. 2 on the Essence best-sellers list and It was on the list for five months, including ascending to No. 1 in August of 2001.
In 2009, Curtis self-published "That Was Then This Is Now," the much-anticipated followup to "Baggage Check" and it is another literary achievement, a virtual tour inside the minds of men. Amid the realistic and engaging plots and subplots, you discover the motivations of the male characters as they contend with true-life relationship issues; their innermost thoughts about women and how to deal with them; and insightful male personality idiosyncrasies – vantage points that educate and entertain at once. As you go on this riveting odyssey with Larry, Julian and Greg, you will laugh, you will cry and . . . you will learn. And you will definitely want more.
Just as with its predecessor, this sequel is written with deft prose and and honest, raw insight. It is a triumph that begs for another follow up entry.
Meeting with book clubs to discuss "Baggage Check" inspired Curtis to create the National Book Club Conference in 2003. It became such a strong coming together of readers and authors that he was named to the "Power List" by Black Issues Book Review Magazine. Now, the NBCC is the must-attend literary event of the year.
Curtis also contributed the short story, "Home Alone" in the anthology, "After Hours: Black Men Writing On Erotica."
The Journalist: As a sports journalist, Curtis worked for The Washington Times, New York Newsday, New York Daily News and The Atlanta Journal-Constitution, covering the New Jersey Nets for three years, the New York Knicks for eight years, two Olympics (Seoul, Korea in 1988 and Sydney, Australia 200), 17 NBA Finals, five Super Bowls, four NCAA Final Fours, four World Series, championship boxing, college football bowl games, six Masters golf championships and so much more. He has been awarded for his writing by the Professional Basketball Writers Association, The Associated Press Sportswriters Association and the Atlanta Association of Black Journalists numerous times.
The Professor: Since 2008, Curtis has served as an adjunct professor/guest lecturer at Morehouse College in the Sports Reporting class, which is part of the Journalism and Sports Program founded by film director Spike Lee and the late, great journalist Ralph WIley.
Curtis, who lives near Atlanta, has a son, Curt, and a daughter, Gwen (Bunny),
www.gwenbunn.com
.
No results
We couldn't find a match for these filters.
Please try another choose.