Dan Hooper
< Back to author list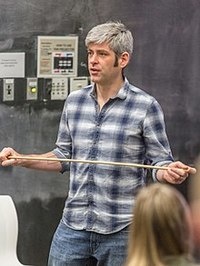 Daniel Wayne Hooper is an American cosmologist and particle physicist specializing in the areas of dark matter, cosmic rays, and neutrino astrophysics.
He is a Senior Scientist at Fermi National Accelerator Laboratory and an Associate Professor of Astronomy and Astrophysics at the University of Chicago.
Hooper received his PhD in physics in 2003 from the University of Wisconsin, under the supervision of Francis Halzen. He was a postdoctoral researcher at the University of Oxford between 2003 and 2005, and the David Schramm Fellow at Fermi National Accelerator Laboratory (Fermilab) from 2005 until 2007.