Daniel Ellsberg
< Back to author list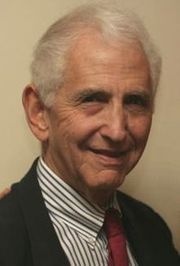 Daniel Ellsberg is a former United States military analyst who, while employed by the RAND Corporation, precipitated a national political controversy in 1971 when he released the Pentagon Papers, a top-secret Pentagon study of US government decision-making about the Vietnam War, to The New York Times and other newspapers.
Ellsberg is the recipient of the Inaugural Ron Ridenhour Courage Prize, a prize established by The Nation Institute and The Fertel Foundation. In 1978 he accepted the Gandhi Peace Award from Promoting Enduring Peace. On September 28, 2006 he was awarded the Right Livelihood Award.
Ellsberg has been married twice. His first marriage, to Carol Cummings, the daughter of a Marine Corps Brigadier General, lasted 13 years before ending in divorce (at her request, as he has stated in his memoirs titled "Secrets"). Two children (Robert and Mary) were born of this marriage. In 1970, he married Patricia Marx, whom he had dated earlier.