David F. Wells
< Back to author list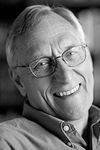 David F. Wells (PhD, University of Manchester) is the Distinguished Senior Research Professor at Gordon-Conwell Theological Seminary.
In addition to serving as academic dean of its Charlotte campus, Wells has also been a member of the Lausanne Committee for World Evangelization and is involved in ministry in Africa.
He is the author of numerous articles and books, including a series that was initiated by a Pew grant exploring the nature of Christian faith in the contemporary, modernized world.