David Guterson
< Back to author list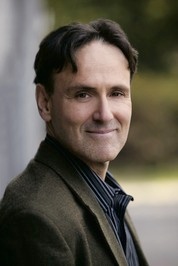 David Guterson is an American novelist, short story writer, poet, journalist, and essayist.
He is best known as the author of the novel
Snow Falling on Cedars
(1994), which won the 1995 PEN/Faulkner Award. To date it has sold nearly four million copies. It was adapted for a 1999 film of the same title, directed by Scott Hicks and starring Ethan Hawke. The film received an Academy Award nomination for cinematography. Guterson's subsequent novels are
East of the Mountains
(1999),
Our Lady of the Forest
(2003), and
The Other
(2008). He is also the author of a short story collection,
The Country Ahead of Us
, the
Country Behind
(1989) and of a book of essays on education called
Family Matters: Why Homeschooling Makes Sense
(1992).
Guterson was born in Seattle, Washington, and received an M.A. from the University of Washington. A Guggenheim Fellow, and a former contributing editor to Harper's magazine, he is a co-founder of Field's End, an organization for writers.