David O'Doherty
< Back to author list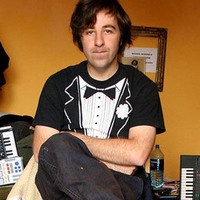 David Nicholas O'Doherty (born 18 December 1975 in Dublin, Ireland) is a Perrier Award winning Irish stand-up comedian, author, musician, actor and playwright. His stand-up has won two awards at the Edinburgh Fringe, Best Newcomer first of all and the if.comedy award in 2008 for his show Let's Comedy. He has been nominated twice more for his work at the festival. O'Doherty has also written a children's book, composed two plays and released two comedy CDs, the first of which Giggle Me Timbers (Jokes Ahoy) was recorded at his home in front of 35 people. O'Doherty's second CD release called Let's David O'Doherty was recorded in Whelans of Dublin and released in December 2009. His television series The Modest Adventures of David O'Doherty was broadcast on RTÉ Television in 2007. In 2006 he claimed that it took him "about three years to get a decent hour together and seven years to achieve this level of fame where (he is) the number three ranked person called David O'Doherty on Google".
O'Doherty has written widely for newspapers and magazines and also has two plays, two books and a radio series to his name. His debut book was a children's book entitled Ronan Long Gets It Wrong, written in 2001. It was illustrated by David Roberts and published by Mammoth Storybooks. His first play is entitled Saddled and was written with Bryan Quinn. It was claimed as "the world's first theatrical production to feature live repair of audience members' bicycles". In 2008, he and fellow Irish comedian Maeve Higgins performed "I Can't Sleep", a play recommended for children aged 5–8. This was O'Doherty's first play for children. The play, which involved the audience entering the theatre to find both performers asleep in separate beds, was performed in both Dublin and Edinburgh. He has also written a series for RTÉ Radio about bee detectives with his brother Mark, entitled The Bees of Manulla. O'Doherty released a book detailing 100 false facts about pandas called '100 Facts About Pandas' which is 100 false facts about pandas. He followed this up with '100 facts about Sharks' which is 100 false facts about sharks.
No results
We couldn't find a match for these filters.
Please try another choose.