Davina Porter
< Back to author list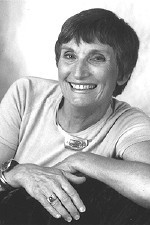 Davina Porter is known for the sheer beauty of her voice and her always-intelligent renditions of both classic and popular literature. A founding narrator with Recorded Books, Davina has an impressive list of classics in her audiography, including Anna Karenina and Madame Bovary. Few female narrators have the fluid capacity to capture grand historical figures and the more subtle, introspective portraits.
Talking with AudioFile, Davina admires authors who do their homework, like Diana Gabaldon. Davina's celebrated readings of Gabaldon's Outlander series have many fans. She won the 2006 Audie Award for Best Female Narrator with A Breath of Snow and Ashes.
At home with the Scottish accents of Alexander McCall Smith's Isabel Dalhousie series, Davina gives us Friends, Lovers, Chocolate and The Right Attitude to Rain. She's also recorded the Stonewycke trilogy and The Treasure of Stonewycke won another Audie Award in the Inspirational Fiction category.
Davina's success with a range of mysteries is a testament to her perceptive approach to seeking the author's intent. The Victorian setting of Anne Perry's Charlotte and Thomas Pitt mysteries are delightfully presented, including recent titles Bluegate Fields and Highgate Rise. Davina introduced listeners to Cynthia Riggs's series with The Cemetery Yew and Deadly Nightshade, both set on Martha's Vineyard.
Davina brings each voice off the page and at the same time maintain a natural sense. She attends to every detail--word, phrase, and emotion come alive with her narrative style. © AudioFile, 2007