Dick Hebdige
< Back to author list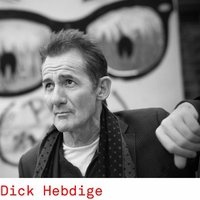 Richard 'Dick' Hebdige (born 1951) is an expatriate British media theorist and sociologist most commonly associated with the study of subcultures, and subcultural resistance against the mainstream of society.
Hebdige received his M.A. from the Centre for Contemporary Cultural Studies in Birmingham, United Kingdom. He is best known for his influential book
Subculture: The Meaning of Style
, originally published in 1979. He has been teaching in art schools since the mid-1970s. He served as the Dean of Critical Studies and the Director of the experimental writing program at the California Institute of the Arts before going to the University of California, Santa Barbara, where he is currently a professor of film and media studies and art.
Hebdige's
Subculture: The Meaning of Style
builds on earlier work at Birmingham on youth subcultures. While much of this research was concerned with the relation between subcultures and social class in postwar Britain, Hebdige saw youth cultures in terms of a dialogue between Black and white youth. He argues that punk emerged as a mainly white style when Black youth became more separatist in the 1970s in response to discrimination in British society. Whereas previous research described a homology between the different aspects of a subcultural style (dress, hairstyle, music, drugs), Hebdige argues that punk in London in 1976-77 borrowed from all previous subcultures and its only homology was chaos. In making this argument he was drawing on the early work of Julia Kristeva who also found such subversion of meaning in French poets such as Mallarmé and Lautréamont.
Hebdidge also wrote
Cut 'n' Mix: Culture, Identity and Caribbean Music
(1987) on Caribbean music and identity, and
Hiding in the Light: On Images and Things
(1988) a book of essays that includes some further thoughts about punk.
In 2008 he contributed a chapter to
Sound Unbound: Sampling Digital Music and Culture
edited by Paul D. Miller a.k.a. DJ Spooky.
No results
We couldn't find a match for these filters.
Please try another choose.