Donald J. Borror
< Back to author list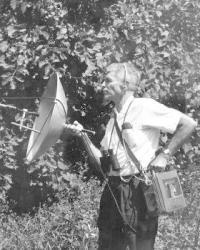 Donald Joyce Borror was a professor of entomology and zoology at Ohio State University. He founded the Borror Laboratory of Bioacoustics at the university, which houses one of the largest collections of recorded animal sounds in the world - it has more than 30,000 recordings of over 1400 species of animals.
As an entomologist and naturalist, he is known best as an expert on the order Odonata (dragonflies & damselflies), and for his book
An Introduction to the Study of Insects
.