Eberhard Arnold
< Back to author list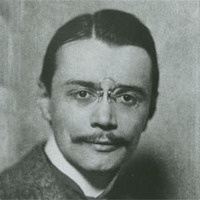 Eberhard was born in Königsberg, East Prussia into an academic family. He studied theology but, because of his views on infant baptism and his decision to leave the Lutheran church, he was refused his degree. He changed majors to philosophy. He married Emmy von Hollander and together they dedicated their lives in obedience to God's will. This led to the beginning of community in 1920.
Eberhard was criticized for his uncompromising faith, which cost him many friends. Not wanting to form a separate sect, he always sought out others who felt as he did. This led to a year's trip to North America (1930-31) to visit the Hutterites. He was accepted as a minister and the Bruderhof became part of the larger Hutterian movement.
When Hitler came to power in 1933 Eberhard spoke out clearly, recognizing early on the direction German politics were taking. He spent the last years of his life preparing the Brotherhood for possible persecution. Returning from a visit to government authorities in October 1933, he slipped and broke his leg—a complicated fracture which ultimately led to his death.
No results
We couldn't find a match for these filters.
Please try another choose.