Eduardo Bonilla-Silva
< Back to author list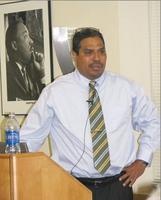 Eduardo Bonilla-Silva is a professor of sociology at Duke University.
He is trained in class analysis, political sociology, and the sociology of development (globalization). However, his work in the last 20 years has been in the area of race. He has published on racial theory, race and methodology, color-blind racism, the idea that race stratification in the USA is becoming Latin America-like, racial grammar, HWCUs, race and human rights, race and citizenship, whiteness, and the Obama phenomenon among other things.
He holds a PhD from the University of Wisconsin-Madison.
Books By Eduardo Bonilla-Silva