Edward E. Hindson
< Back to author list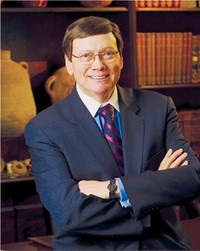 Ed Hindson
(born Edward Hindson on December 21, 1944) is an American Christian evangelist and current host of The King Is Coming, a syndicated television broadcast shown across the United States. Hindson has written more than twenty books that deal with Bible prophecy and the imminent return of Jesus. He is a professor of Old Testament studies and Eschatology at Liberty University in Lynchburg, Virginia, and a frequent speaker on prophecy.
Hindson graduated from William Tyndale College in Farmington Hills, Michigan. He completed a D. Phil. at the University of South Africa and also holds a number of degrees such as and M.A. and Th. D. from Trinity Evangelical Divinity School, Th.M. from Grace Theological Seminary and D. Min. from Westminster Theological Seminary.
Dr. Ed Hindson is the President of World Prophetic Ministry and Bible Teacher on The King Is Coming telecast. He is also the Assistant Chancellor and Dean of the Institute of Biblical Studies at Liberty University in Virginia. Dr. Hindson previously served as the associate pastor of the 9,000-member Rehoboth Baptist Church in Atlanta.
Besides teaching thousands of students each week, he is an active conference speaker and a prolific writer. Ed has written over 40 books, including Final Signs; Approaching Armageddon; and Is the Antichrist Alive and Well? He has served as the editor of five major Study Bibles, including the Gold Medallion Award-winning Knowing Jesus Study Bible (Zondervan) and the best-selling King James Study Bible (Thomas Nelson). He is currently co-editing the new 16-volume Twenty-First Century Biblical Commentary series on the New Testament (AMG).