Elihu Burritt
< Back to author list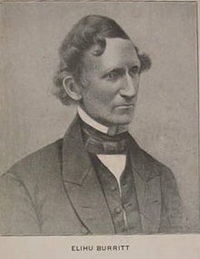 Elihu Burritt had a variety of jobs as a young man, including as a lecturer and, after his father died, a blacksmith. In the spare time in his latter occupation he taught himself over 50 foreign languages and he was known as 'The Learned Blacksmith'.
He was always a temperance supporter and he toured New England speaking against war and promoting brotherhood in the 1840s.
He founded a weekly paper, 'The Advocate of Peace' in Worcester, Massachusetts, in 1844 and he was the head of a group of radical pacifists. In 1846 he renamed his publication ' The Advocate of Peace and Universal Brotherhood'.
In the summer of 1846 he was invited by English pacifists to visit England and he stayed until 1853, While there he walked and travelled extensively and wrote his books 'From London to John O'Groats and Back' and 'A Journal of a Three Day Visit to Skibbereen' about the potato famine in Ireland.
He lived in Birmingham and named his house New Britain Villas and he was actively involved in the local community and he formed the League of Universal Brotherhood. He also organised the first international congress of the Friends of Peace, which convened in Brussels in September 1848.
He subsequently returned to New England and devoted himself to farming and agricultural methods and In 1856–7 he spent time on abolitionist lecturing around the USA.
Abraham Lincoln appointed him United States consul in Birmingham, England, in 1864 but when Ulysses S. Grant was elected in 1868, he was not reappointed to the post . While in England he once again walked extensively and he produced his book 'From London to Land's End and Back' in 1865.
Later he returned to America and died on 6 March 1879. The library at the Central Connecticut State University in New Britain, Connecticut is named The Elihu Burritt Library in his honour.