Elizabeth Levy
< Back to author list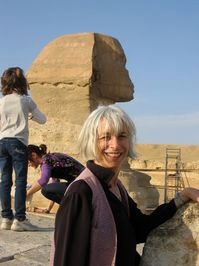 Elizabeth Levy has been writing and publishing books for over thirty years and sometimes now she meets kids whose parents read her books when they were children! She has written over 80 books, a number that continues to surprise her, as it surprises her how long she's been at it.
Over the years they've printed lots of her books - over five million of them.
She loves to try writing different types of books - everything from funny mysteries to novels about kids who get in trouble to history.
One of the most pleasant surprises about writing is that she's been invited to travel all over the country and even the world speaking to children, teachers, and librarians. She's made some wonderful friendships and gotten lots of ideas for her books. One of the most special treats is that kids have drawn wonderful pictures of one of her favorite characters, Fletcher.
She grew up in Buffalo, New York, then went to Brown University, where she majored in history. When she graduated, she came to New York City and worked for ABC-TV and then for Senator Robert Kennedy. She has lived in New York ever since, and she loves it. She knows all the best places for salami, she has run four marathons, and she has completed many 5-borough bike tours, so she thinks she really knows this place well.
At certain times of the year, she can be found out at Shea Stadium watching her team, the New York Mets. She has always loved baseball.
Mostly she enjoys hanging out with her friends. They spend lots of time going to movies or plays, playing sports, having meals together.
When she's alone and not writing, she is usually reading. She reads mysteries a lot, always has, which is probably why many of her books are mysteries.
Books By Elizabeth Levy
Displaying all 3 products