Emil Schürer
< Back to author list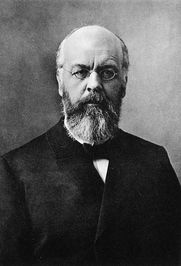 Emil Schürer was a German Protestant theologian.
After studying at Erlangen, Berlin and Heidelberg from 1862 to 1866, he became in 1873 professor extraordinarius at Leipzig and eventually (1895) professor ordinarius at Göttingen. In 1876 he founded and edited the Theologische Literaturzeitung, which he edited with Adolf Harnack from 1881 to 1910.
Geschichte des judischen Volks im Zeitalter Jesu Christi (1886–1890; 4th edition 1901-1909), his elaborate work on the history of the Jews in the time of Christ, made him one of the best known of modern German scholars in Great Britain and the United States. The second edition was translated into English under the title A History of the Jewish People in the Time of Jesus Christ (1885-1891). Later, a revised English version of the work was created under the editorship of Geza Vermes, Fergus Millar and Matthew Black, with the slightly different title of The History of the Jewish People in the Age of Jesus Christ (1973-1987).