Emily Rose Funderburk
< Back to author list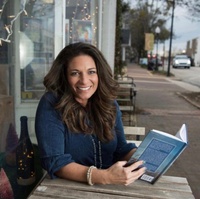 Emily Funderburk brings a unique blend of Ministry experience and Counseling practice as she writes about her passion of bringing emotional and spiritual health into our Marriages and Families. On staff at her local church, Emily creates environments that grow the health of the family unit. She provides insight and counseling to marital couples both at her local church and within her therapeutic private practice, the Inner Freedom Initiative, PLLC.
Emily graduated from Gordon-Conwell Theological Seminary with a Masters Degree in Counseling and is currently licensed in North Carolina as a Licensed Professional Counselor (LPC). She targets healing in marriage and family relationships.
At home, Emily is the mother of 3 kids that are her biggest educators in understanding selfless love and relationships in life. Her Husband of 13 years, Matt, is her biggest fan, and they have learned the value and definition of love and forgiveness through the storms and celebrations of their life together.
Emily has a heart for teaching and speaks with the people in her community about the transformative power that the Gospel message has on the way we engage in the relationships in our life. She is on a mission to see people find Freedom from the Emotional Bondage in their life.
Books By Emily Rose Funderburk
Displaying all 2 products