Erwin Panofsky
< Back to author list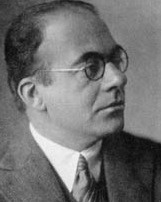 Erwin Panofsky was a German art historian, whose academic career was pursued almost entirely in the U.S. after the rise of the Nazi regime. In 1935, while teaching concurrently at New York University and Princeton University (something he continued to do his entire career), he was invited to join the faculty of the newly formed Institute for Advanced Study at Princeton. From 1947 to 1948 Panofsky was the Charles Eliot Norton professor at Harvard University.
Panofsky's work remains highly influential in the modern academic study of iconography. Many of his works remain in print, including
Studies in Iconology: Humanist Themes in the Art of the Renaissance
(1939), and his eponymous 1943 study of Albrecht Dürer. His work has greatly influenced the theory of taste developed by French sociologist Pierre Bourdieu, in books such as
The Rules of Art or Distinction
. In particular, Bourdieu first adapted his notion of habitus from Panofsky's
Gothic Architecture and Scholasticism
.
Books By Erwin Panofsky
Displaying all 2 products