Ewa K. Czaczkowska
< Back to author list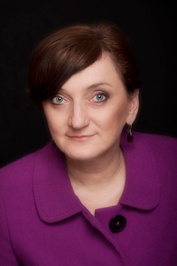 Ewa K. Czaczkowska
PhD about herself:
"I am a journalist and a historian writing books.
My most recent book, of 2015, is
The Pope Who Believed. How Karol Wojtyła Persuaded the Church to Worship the Divine Mercy,
[PL: Papież, który uwierzył. Jak Karol Wojtyła przekonał Kościół do kultu Bożego Miłosierdzia].
I wrote
'Miracles of Saint Faustina'
and it was presented on the press conference in Warsaw on 29th May. The book is a collection of reportages about people who were saved by Divine Mercy. It saved their lives and health, helped to release from spiritual addictions, bad habits, helped to become parents… The stories do not finish only with the miracle which was a turning point in the characters' lives but have a continuation, not always an easy one. This is my first journalistic book but I used to publish reportages in various journals in the past.
I have already written three biographies.
The biography of Saint Faustina
was translated into eight languages - the Polish premiere of this book was in April 2012. The Association of Catholic Publishers awarded it with the Feniks Prize.
Cardinal Wyszyński's biography
had two editions. The latest one, which was significantly extended and completed with new archival materials, was published in September 2013. This book was also appreciated by the Association of Catholic Publishers and received the Feniks Prize.
The first biography, which I have written together with Tomasz Wiścicki, was the one of
father Jerzy Popiełuszko
. This book had also two editions and was translated into Italian.
My first book was the collection of interviews
'Church of the 20th Century'
which was published in autumn 1999. I received the Feniks Prize for it.
Combining history with journalism has always helped me to write biographies. When I started my historical studies and was considering to enter journalism postgraduate course I did not even realize the effects of my decision.
Writing has always been my job. I worked in Rzeczpospolita Newspaper for twenty years (I received a prestigious journalistic award the Bishop Jan Chrapek 'Ślad' in 2002). Nowadays I co-operate with a few journals, including the weekly 'Gość Niedzielny' (lit. Sunday's Guest). I have got a Ph.D. in history. I am an adjunct instructor in Media Education and Journalism Institute. Four years ago I started Areopag XXI Foundation, which creates a web portal areopag21.pl – conversations about God, faith and religion. A Documentary Film Festival 'Kino z Duszą' (lit. Cinema with a Soul) is our recent project."
Source (28th March 2015):
http://www.czaczkowska.pl/en/index.html
No results
We couldn't find a match for these filters.
Please try another choose.