Francis George
< Back to author list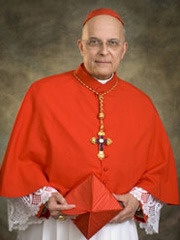 His Eminence Francis Eugene Cardinal George
, O.M.I., was an American cardinal of the Roman Catholic Church and Archbishop Emeritus of Chicago. He was the eighth Archbishop of Chicago (1997–2014) and previously served as Bishop of Yakima (1990–1996) and Archbishop of Portland, Oregon (1996–1997). He was the first native Chicagoan to serve as Archbishop of Chicago.
A member of the Missionary Oblates of Mary Immaculate, George was created a cardinal by
Pope John Paul II
in 1998. He served as president of the
United States Conference of Catholic Bishops
from 2007 to 2010. In 2010,
Pope Benedict XVI
appointed Cardinal George to the Pontifical Council for the Study of the Organizational and Economic Problems of the Holy See.
He was initially diagnosed with cancer in 2006, and died from the disease in 2015.