Frank H. Netter
< Back to author list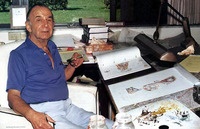 Frank H. Netter (25 April 1906-17 September 1991) was an artist, physician, and most notably, a leading medical illustrator. He was also a Fellow of The New York Academy of Medicine.
Frank Henry Netter was born in Manhattan at 53rd Street and Seventh Avenue, and grew up wanting to be an artist. In high school, he obtained a scholarship to study at the National Academy of Design, doing so at night while continuing high school. After further studying at the Art Students League of New York and with private teachers, he began a commercial art career, quickly achieving success and doing work for the Saturday Evening Post and The New York Times. However, his family disapproved of a career as an artist and he agreed to study medicine. After getting a degree at the City College of New York, he completed medical school at New York University and a surgical internship at Bellevue Hospital and attempted to begin practicing medicine. However, as Netter put it: "This was in 1933—the depths of the Depression—and there was no such thing as medical practice. If a patient ever wandered into your office by mistake, he didn't pay."
Having continued doing freelance art during his medical training, including some work for his professors, he fell back on medical art to supplement his income. In particular, pharmaceutical companies began seeking Netter for illustrations to help sell new products, such as Novocain. Soon after a misunderstanding wherein Netter asked for $1,500 for a series of 5 pictures and an advertising manager agreed to and paid $1,500 each - $7,500 for the series - Netter gave up the practice of medicine. In 1936, the CIBA Pharmaceutical Company commissioned a small work from him, a fold-up illustration of a heart to promote the sale of digitalis. This proved hugely popular with physicians and a reprint without the advertising copy was even more popular.
Quickly following on the success of the fold-up heart, fold-up versions of other organs were soon produced. Netter then proposed that a series of pathology illustrations be produced. These illustrations were distributed to physicians as cards in a folder, with advertising for CIBA products on the inside of the folder, and were also popular with physicians. CIBA then collected these illustrations in book form, producing the CIBA Collection of Medical Illustrations, which ultimately comprised 8 volumes (13 books). Beginning in 1948, CIBA also reused illustrations by Netter in another series of materials to be given to physicians, the Clinical Symposia series. These were small magazine-like brochures that typically featured an extensive article on a medical condition, commonly with about a dozen of Netter's illustrations. This series was produced until at least the early 90s. In 1989, Netter's Atlas of Human Anatomy was published. In all, Netter produced nearly 4,000 illustrations, which have been included in countless publications.
The vast bulk of Netter's illustrations were produced for and owned by CIBA Pharmaceutical Company and its successor, CIBA-Geigy, which has since merged with Sandoz Laboratories to become Novartis. In June 2000, Novartis sold its interest in Netter's works to MediMedia USA's subsidiary Icon Learning Systems, which in turn has sold the portfolio to Elsevier, which continues to make his work available in various formats. His Atlas of Human Anatomy [1] and other atlases have become a staple of medical education.
Netter's work has received numerous accolades:
"Dr. Netter's contribution to the study of human anatomy is epochal. He has advanced our understanding of anatomy more than any other medical illustrator since the 16th century, when Vesalius introduced drawings based on cadaveric dissections." - Dr. Michael DeBakey
No results
We couldn't find a match for these filters.
Please try another choose.