Frank Thomas
< Back to author list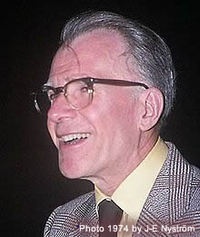 Franklin M. "Frank" Thomas was an American animator.
Frank Thomas attended Stanford University, where he worked on the campus humor magazine The Stanford Chaparral with Ollie Johnston.
After graduating from Stanford, he attended Chouinard Art Institute.
Frank Thomas joined The Walt Disney Company on September 24, 1934 as employee number 224. There he animated dozens of feature films and shorts.
Along with Ollie Johnston from his college days, the two would eventually become known as members of Walt Disney's team of animators known as the
Nine Old Men
.