Gaven M. Mize
< Back to author list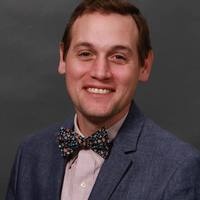 The Rev. Gaven M. Mize, formerly the pastor of Divine Savior Lutheran Church, Shepherdsville, Ky., was installed as pastor of Augustana Lutheran Church-Missouri Synod, Hickory, on June 8.
Pastors from the Catawba Valley area, from the Piedmont region of North Carolina, as well as pastoral colleagues from the states of Alabama, Florida, Illinois and Indiana participated in the installation worship service.
Mize was born in Hickory. He grew up in China Grove, and graduated from South Rowan High School in 2001. Directly out of high school, he briefly attended Rowan Cabarrus Community College before deciding to enter into the ministry. The following year, he was accepted into the pre-seminary program at Concordia University of Mequon, Wis. During his time at Concordia - Wisconsin, he wrestled at 141-pound weight class, was the construction foreman to build eight houses for the homeless in Juarez, Mexico over a four-year span, and was active in the Pre-Seminary Student Association. He graduated from Concordia - Wisconsin with a Bachelors of Arts in Pastoral Ministry and a Minor in Theological Languages. His language concentrations were Konie' Greek, Biblical Hebrew, and Ecclesiastical Latin.
After his graduation from Concordia University, he was accepted into Concordia Theological Seminary, Fort Wayne, Ind. While at CTS, he studied abroad at Tshwaine Lutheran Seminary in Pretoria, South Africa, with a concentration in Church History.
Upon his return to CTS-Fort Wayne, he received his vicarage pastoral training assignment to serve at Zion Lutheran Church in Clark, N.J. Upon completion of his vicarage, he returned to Concordia Theological Seminary to complete his studies. He graduated from Concordia Theological Seminary in 2009 with a Master of Divinity degree.
Prior to his graduation from the Fort Wayne, Indiana seminary, Mize was called to serve Divine Savior Lutheran Church in Shepherdsville. He was ordained by the Rev. Ray Ohlendorf at Salem Lutheran Church in Taylorsville, NC and subsequently installed at Divine Savior Lutheran Church, where he served for nearly three years before being called to serve at Augustana Lutheran in Hickory, North Carolina.
Gaven is married to Ashlee Mize and they have a son, Oliver Augustine. All currently reside in Hickory, North Carolina.